Sounds
New Music Friday
It's been ages since I posted some music on Fridays, so here we go with Rob Zombie's latest from his upcoming album 'The Lunar Injection Kool Aid Eclipse Conspiracy". Rob really does do awesome album names.
I've also been giving this a go, there's some absolute banging tunes here. Ideal for a Friday afternoon when you're unwinding your mind, it helps me think.
Bitch Falcon have a new album out, I had a listen to 'Turned to Gold', and it's as good as anything they've made so far. I saw these guys at EP two years ago, and they were great.
If you fancy some poptastic pop, you could do far worse than try Kylie's latest 70s/80s influenced 'Disco'. I've only sampled one track so far, definite 70's vibe there.
Finally, and awesomely, AC/DC have a new album out! I haven't had a full listen yet, but it's promising so far. Best of all, Brian is back, thanks to some 'prosthetic eardrums' as he calls them. A life on the road has taken it's toll, but great to see them back in the studio. I was so lucky to get to see them live before Brian had to stop touring. There's a good interview in the Guardian – "The impossible return of AC/DC: 'You could feel the electricity in the air'".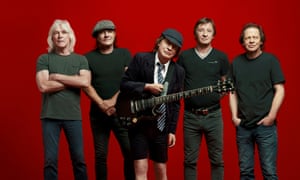 "It just shows the resilience and the bond that exists between us. We walked into the studio, and you could feel the electricity in the air. And, of course, Malcolm was there. He was there in such a strong spirit that it was palpable. I think everybody could feel it."

– Brian Johnson